We've been getting a lot of questions and suggestions from all you wonderful fans out there, so to answer them beforehand, we'll be publishing a monthly newsletter, just giving you the quick word about what we have in store for you guys.
Facebook quiz: What mad scientist are you ? [play quiz here]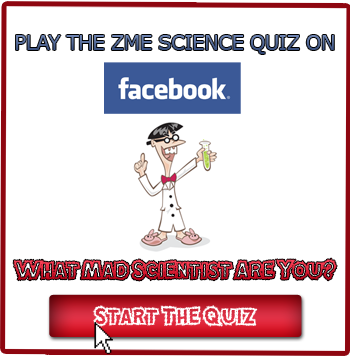 There's a little mad scientist in all of us, why not let it out? With this thought in mind we developed the facebook quiz - we had loads of fun doing it, and we hope you'll have just as much fun playing it; perhaps you'll find out something about yourself as well.
New authors on ZME Science
We're going to have a new writer on ZME Science, I don't want to go into any details yet, he'll tell you more about himself when he gets here, but it was about time. This will ensure both the quality and the quantity of our articles.
Again, we have you guys to thank for all the great contributions you made, and all the great posts you've published - you've really helped us a lot, and, of course, we welcome any more such contributions. I would especially like to mention Andrew Kays and Henry Conrad, who wrote some fine articles - hope to have you guys with us in the future too!
Big feature coming up
We've been working on this for several months now, planning and developing. I don't wanna give any spoilers just yet, but as some of you will remember, we did a poll about a year ago - and this is what we're going to release by the end of the year.
So, that's pretty much it for November, stay tuned, keep calm, and play the faceobook quiz.
Wishing you love, peace and happiness,
The ZME Science team