The Indian Space and Research Organization (ISRO) has come close to making India the only country in the world after the US and China that operates its own unmanned and reusable spaceplane. ISRO has a reputation for making one of the most lightweight and cost-effective space solutions, and the newly tested autonomous spaceplane is no exception. It can fly to space on a rocket, re-enter Earth's atmosphere, tolerate temperatures over 2000 °C (3632 °F), and then land on a runway similar to those used by commercial airliners.
Moreover, despite being so powerful, this Indian spaceplane prototype weighs only 1,600 kg which is almost 800 kg (1,760 lbs) less than a Tesla Model X electric car.
ISRO tested its spaceplane which is officially called the reusable launching vehicle (RLV) at an aeronautical test range in the state of Karnataka on April 1 at about 10 pm EST (it was April 2 in India). During the test, pilots from the Indian Air Force (IAF) first took the unmanned space plane to a height of 4.5 km (2.85 miles) with the help of a helicopter and then dropped it. After 30 minutes, RLV successfully landed on the same test range it took off from earlier.
"In a first in the world, a winged body has been carried to an altitude of 4.5 km by a helicopter and released for carrying out an autonomous landing on a runway. The autonomous landing was carried out under the exact conditions of a Space Re-entry vehicle's landing —high speed, unmanned, precise landing from the same return path— as if the vehicle arrives from space. Landing parameters such as Ground relative velocity, the sink rate of Landing Gears, and precise body rates, as might be experienced by an orbital re-entry space vehicle in its return path, were achieved," the ISRO team notes in a press release.
What's the need for unmanned spaceplanes like ISRO's RLV?
The most successful reusable unmanned spaceplane in human history is the Boeing X37B. The US has two of these and collectively these planes have spent over 10 years exploring space on different classified missions. Multiple reports claim that China has its own version of X37B but to this date, the country has managed to keep it a secret. You'd be surprised to know that the words like "classified" or "secret" are rarely used alongside space rockets.
However, when it comes to spaceplanes, these terms are justified because the latter can also be used for mass-scale surveillance and spying. For instance, according to defense experts, if you have an unmanned spaceplane at your disposal you can use it to keep an eye on any country from space, and within a short span of time, you can move it to another location. Moreover, unlike spy balloons, spaceplanes are almost undetectable and untargetable. These are not the only factors that make spaceplanes desirable though.
Crewed spaceflights cost billions of dollars. For instance, the per-flight cost of the Space Shuttle, the non-autonomous retired spaceplane stood at around $1.5 billion. Plus, with crewed spaceplanes, there is always a risk of losing human lives. In contrast, unmanned spaceplanes like X37B or RLV can be made and operated on a low budget, and if the mission fails, at least no lives are lost.
Moreover, many countries across the globe that cannot afford to make billion-dollar rockets for space research, can consider developing low-cost reusable spaceplanes like RLV. Once they achieve this feat, they can further seek the help of space agencies like ISRO or SpaceX to have their spaceplane deployed at low prices. Even rich countries like US, Switzerland, and UAE use the same approach to launch their satellites into space, as it costs them less money.
RLV has been tested for both reentry and runway ride
Coming back to the Indian spaceplane, the scientists at ISRO have been working on RLV for the last 10 years. According to the ISRO team, their latest prototype is only 3.6 meters wide and 6.5 meters long but comprises all components and equipment necessary to be considered space-worthy. They conducted the first successful test of RLV in 2016 during which it was taken to a height of 67 km (41.63 miles) into the sky via a rocket.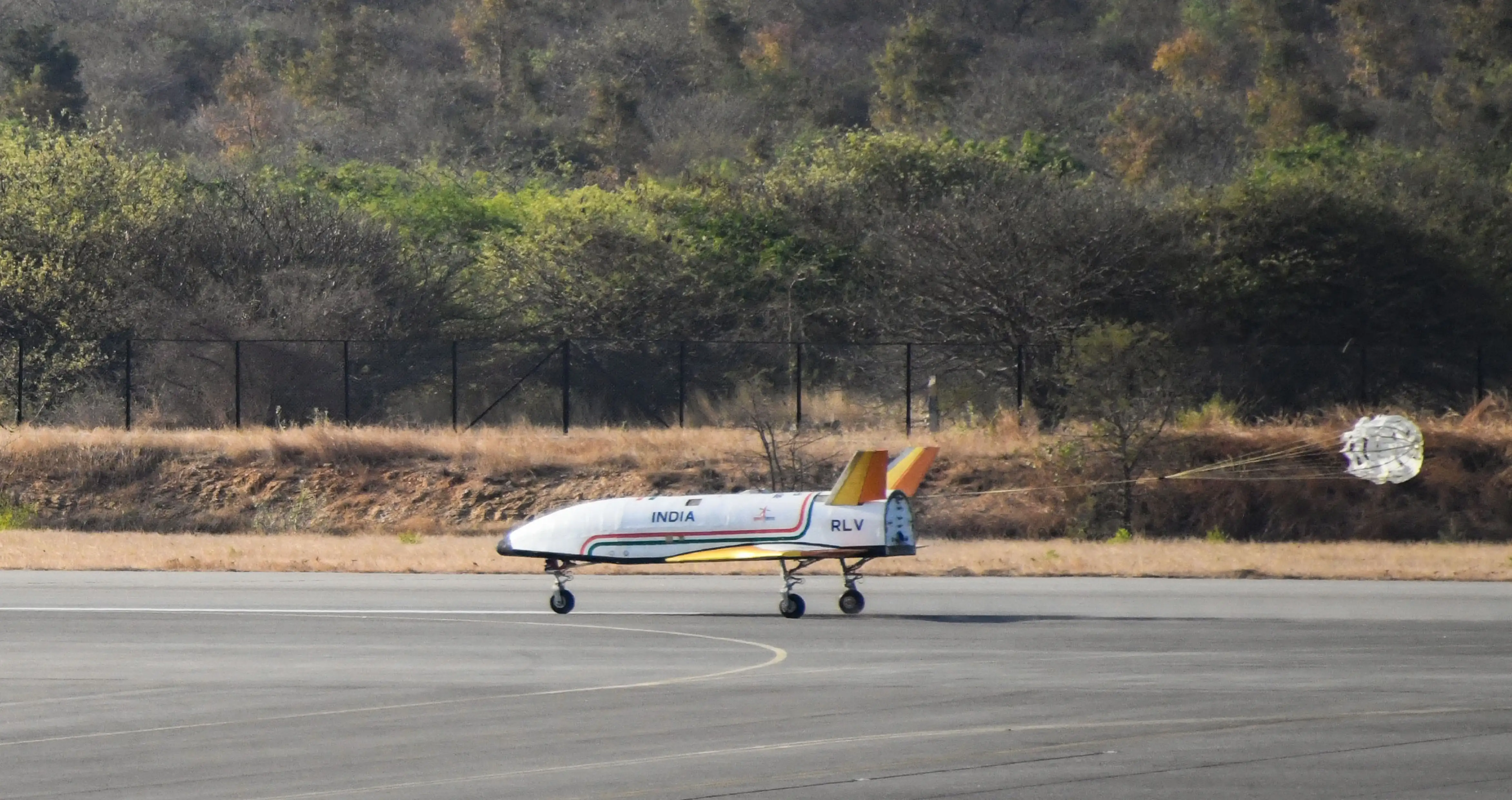 When the spaceplane was released at that height, it re-entered the Earth's dense atmosphere at hypersonic speeds (around Mach5) and eventually fell into the Bay of Bengal. During that initial test flight, the spacecraft proved its ability to withstand extreme atmospheric conditions. The current flight test has demonstrated that RLV can safely land and move on a runway. While highlighting the runway landing, an ISRO representative told WION:
"The plane landed just as planned, perfectly along the runway centreline. The landing was so perfect that the spaceplane is said to be in impeccable condition, at the Aeronautical Test Range tarmac in Chitradurga, Karnataka."
The runway test has brought Indian scientists closer to living their dream of having their own fully autonomous spaceplane, but there is still a long way to go. They suggest future models of RLV could be provided with some additional tools to further improve its performance. Hopefully, by doing so, the ISRO team will progress its efforts towards making outer space more accessible.
You can check the ISRO press release here.
Thanks for your feedback!