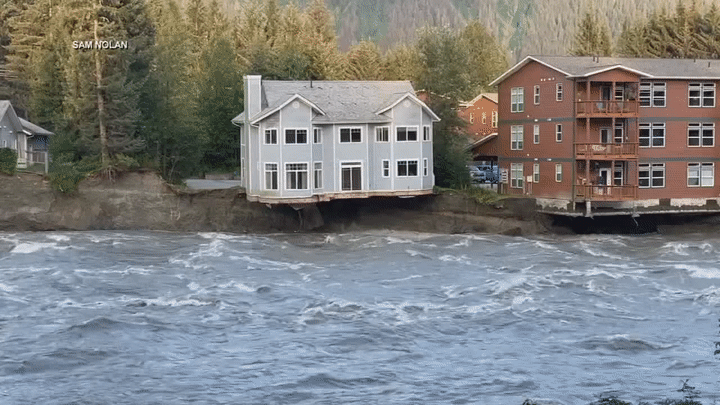 A glacier lake outburst flood brought disaster to Juneau, the capital of Alaska. The flooding destroyed several buildings and eroded the bank so quickly that dozens of people had to be evacuated. The city issued a state of emergency in response to the disaster. But what's perhaps even more stunning is that until recently, this phenomenon was thought to be very unlikely in the area.
Yep, it's climate change
The flooding was caused by a glacial dam outburst.
Glacial lakes form when glaciers melt, and the water is often contained by ice or a terminal moraine (a natural dam made of unconsolidated rock and debris deposited by a glacier). Over time, the lake will fill with water and if the ice or moraine damming the lake is weak or unstable, it can suddenly fail, releasing a large volume of water.
When a glacial dam outburst occurs, it can result in a catastrophic flood downstream. This sudden release of water often carries with it large amounts of sediment, rock, and other debris, creating a powerful and destructive force that can devastate landscapes, infrastructure, and communities in its path. This phenomenon, sometimes also described by the Icelandic word jökulhlaup, is made more common by climate heating.
Ironically, Mendenhall Glacier, located about 13 miles from Juneau, is one of the city's most popular attractions. The awe-inspiring, 3,000-year-old mass has been steadily retreating because of climate change. Overall, the Mendenhall Glacier has retreated approximately 2.5 miles since its most recent maximum during the Little Ice Age in the mid-1700s.
In a joint article for the Juneau Empire, geologist Cathy Connor and Geophysicist Roman Motyka, both professors of the University of Alaska said "climatic warming coupled with ice loss through iceberg calving are the reasons the Mendenhall Glacier is retreating and shrinking."
But before it recedes completely it can do things like this.
As the glacier melts, water collects in a lake grimly called Suicide Basin. Before climate change began to accelerate, the glacier was consistently trapping water in the basin, acting as a dam. But since 2011, this basin has had periodic surges of water called glacial lake outburst floods. This time the dam had a major break, sending water surging towards the city.
While the process itself is not surprising, the scale of it is stunning.
"This is uncharted territory," Jacobs tells the Juneau Empire's Clarise Larson and Mark Sabbatini. "We've never had it this high before."
"We didn't even think that this was possible," Aaron Jacobs, a senior service hydrologist for the National Weather Service, tells ABC News' Julia Jacobo.
As is always the case, it's hard to pin climate change to individual events. It's hard to say "this happened because of climate change." But as scientists so often point out, this is exactly the type of event you expect to see with climate change. It's exactly the type of process that is exacerbated by rising temperatures.
This event has been devastating for the local community, but according to an earlier study from this year, over 15 million people are under threat because of this type of glacial melt. With Hawaii burning and glacial floods in Alaska, it's a shocking reminder that climate change isn't a problem for the future. It's affecting all of us now.