Victoria falls; photo by Remyomar
Following our mountain theme, in which we included the 5 tallest mountains in the world and the two most dangerous peaks in the world, Annapurna and Nanga Parbat, it's time for a bit about waterfalls; and what better way to start than a list of the 5 tallest such fantastic displays of nature's beauty? 'Cause we all know what waterfalls are, but not everybody knows just how beautiful they can be and what the talles are. Unfortunately, the talles aren't always the most spectacular.
5. Yumbilla, Catarata – 895.5 meters
Continent: South America
Country: Peru
State / Province: Amazonas
Locality: Cuispes
Really elusive waterfall, it's been seldom imortalized on picture; this one shows just the bottom part, and in terms of water debit, it's not that impressive; in height however… things are a bit different.
4. Olo'upena Falls – 900 meters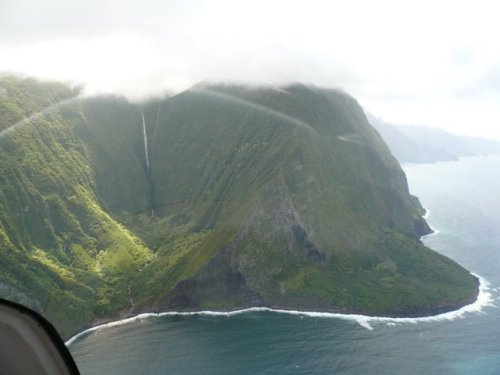 Continent: Oceania
Country: USA
State / Province: Hawaii
Locality: Molokai
A truly massive and impressive fall, although pretty slim on the volume. Still, it remains really impressive, definetely worth its place.
3. Tres Hermanas – 914 meters
Continent: South America
Country: Peru
State / Province: Ayacucho
Locality: Cordillera Oriental
Specific Location: Rio Cutivireni
The waterfalls continue to be taller and taller, but the volume of water doesn't increase. The bottom part is really great though, it alone making it worth a trip there.
2. Tugela Falls – 948 meters
Continent: Africa
Country: South Africa
State / Province: Kwazulu Natal
Locality: Royal Natal National Park
Specific Location: Mont Aux Sources
Located in the Dragon's mountain, Tugella Falls start to look a bit more impressive, but don't expect really really big quantities of water. As I said earlier, the tallest waterfalls are not at all the most spectacular. Still, they have a sense of distinguished quality.
1. Angel – 979 meters

Photo by a.caccuri
Continent: South America
Country: Venezuela
State / Province: Bolivar
Locality: Canaima National Park
Specific Location: Auyan Tepui
There it is ladies and gents! The tallest water fall in the world. Disputed by some at over 1200 meters, it's been quite a hot topic in geographical circles. Angel falls… quite an adequate name.
If you were not impressed by these splendid waterfalls and you want something else, stay tuned for the "splashy" ones which will follow !